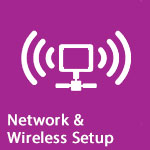 Computer networking has evolved at an unbelievable rate over the past 10 years. While businesses have enjoyed the benefits of networks, and the ability to share information across them for years, it is only recently that home users have desired similar access. Now, with broadband services available to all, it seems almost impossible to imagine computers without networks or without the internet.
Computers are linked to networks in a variety of ways, from simple network cables between rooms to wireless networks in an entire building. A network is any collection of computers that have the ability to share information, whether it is across telephone wire, ethernet cable, wireless transmissions or optical fibre. The concept of computer networking remains the same for small and large networks whether business or personal – the technology is the key difference.
Home users will typically use computer networking when there is more than one computer in the house. Simple networking in the home allows users to share the internet connection, files between users and a common printer. Some of the more enthusiastic home users may want to join gaming consoles or other electronic gadgets such as PDAs, music players (without mentioning any specific names!) and phones or tablets to their network for internet access.
We have experience in all aspects of computer networking including technology such as PC Computers or Apple Macs, ADSL, wireless, wired ethernet, cellular broadband, routers, firewalls, VPNs, and even dial-up! We can help you or your business with all of your networking requirements – from your home internet connection to setting up a secure network for your business or home from scratch.