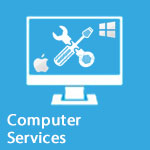 How can we help?
Make your computer and network faster

Remove viruses and spyware

Configure a network to share files and printers

Configure a backup for your important files

Recover lost or deleted data

Setup new equipment including tablets and smartphones

Secure your computers and network

And get the most out of your technology!
Computer Repairs
A good computer technician can communicate with the client in terminology that the client can understand instead of using jargon and technical words that only causes confusion and frustration. Many people know about computers, but not everyone can successfully diagnose and fix a computer. Sometimes those people who think they know how to fix computers, can actually make the problems worse. With most situations, a technician can usually diagnose the likely cause of a problem simply by asking questions and listening to the client describe the circumstances surrounding the issue.